3 Branding Tips To Elevate Your Social Media
What are the main branding tips you can do to elevate your social media. 
You might have heard the phrase, "Your website is your business's 24/7 salesperson." As a brand and website designer, I'm here to tell you the same goes for your social media.
Your brand is your business
What empowers your readers to purchase after navigating your website and social media? Your brand!
Your branding on social media should help your readers get to know, like and trust you. Yet if your branding feels flat or off in some way, it can leave you feeling unconfident in your brand identity, or worse, turning away potential customers.
In this article, I'll share my top three branding tips to elevate your social media and grow your brand!
#1 Build a deep brand
Your brand should go further than the surface, in fact the deeper the better. But what do I mean with a "deep brand?"
Your brand should do two things:
Feel true to you and your purpose
Tell the world who you are to connect with you
A shallow brand will have trouble accomplishing these because it focuses purely on visuals (like your color palette and elements). Visuals are important, too, but they won't feel genuine without your brand messaging.
When potential customers are browsing your social media, your brand should connect with them on an emotional level.
A deep brand first emphasizes your brand's mission and purpose to resonate with your readers before focusing on visuals. That means that if you are not clear on your deeper purpose and your WHY, you cannot effectively convey this to anyone else either.
If you brand is just about the pretty colors and the funny fonts, you are missing out! There should be a deeper reason you chose all of the elements in your brand, and the reason should mean something to you. It should represent your values, your strengths, and your uniqueness.
Only then can you really touch someone on the other side – by being touched and connected to your brand first yourself.
So how do you create a deep brand?
#2 Create a brand strategy
Your brand strategy is the foundation of your brand visibility on social media. In fact, it's your foundation for everything you do with your brand.
Without it you are just shooting in the dark, not knowing what elements to use and what to say, and you end up being all over the place.
Think of brand strategy as your compass, your guide – it will show you the direction you are taking with your business.
The goal is to make it easy for your readers to explore your page and go, "She gets me! I need to work with her!"
Your brand strategy helps you build a cohesive and vibrant brand to tell your mission and show off your brand personality.
Here's the simplest yet effective way to build your brand strategy:
Step 1: Know your mission and purpose
Step 2: Define your values
Step 3: Discover and develop your brand personality
Step 4: Find your brand voice
Step 5: Create your brand visuals
The order is important here as you want to develop a deep brand with strategic content that resonates with your readers! As you can see, creating the brand visuals is only the last step, after you have nailed down your purpose, values, personality and brand voice.
Because all of the visual elements have a personality too! if your brand is luxury items, you cannot use the same fonts and colors as a babysitting service would.
The visuals need to match the vibe you have, and if they don't, your visitors will be confused. And when they are confused, they won't buy.
#3 Keep a consistent brand image
While this is a part of your overall brand strategy, it deserves its own section!
Consistency is not only keeping up with a content calendar, but is also keeping every post "in the family" to maintain your brand image.
Social media templates can help you do this (especially if you aren't super techy) by creating uniformity among your posts.
You can create beautiful and customizable social media graphics with design tools like Canva. It offers thousands of easy-to-use templates to maintain your brand image!
But just because there are all these option doesn't mean you have the permission to go off on all directions. Here are some elements to pay special attention to for your brand image:
Logo styles
Your logo should come in four styles: Primary, secondary, submark and favicon. Aim to use your secondary logo, or submark logo style on all your social media graphics (depending on the space you have).
Fonts and sizing
Your social media graphics should share the same font styles for titles and body text. These fonts should also remain the same size on each graphic (i.e. if your title font is 55px, make it that size for every graphic).
Color palette and elements
Just like your logo and fonts, your color palette and elements should match each time.
Try not to use the default colors on a template or random elements (for example, flowers or arrows) that you haven't already adopted into your brand image family.
If you aren't sure what your brand image should look like, here's how you can make a quick and easy brand board!
Ready to elevate your brand?
Social media is a great tool to grow your brand. 
Although it's not about the perfectly curated feeds anymore, your branding still matters!
It helps you establish brand authority and online presence so your target audience can discover you and fall in love with you.
Your brand should be polished and professional with a clear sense of who you are. If your branding isn't achieving this yet, I can help!
I'm a branding and website designer, and it's my job to build beautiful brands and websites that match your big and bold dreams.
Need branding help? Let's chat!
I'm your coach, brand and webdesigner when you want to get serious about your passion project and make it into a business with a beautiful online presence.
I'll help you with tech, design and courage. Contact me and we'll create some magic for your passion business!
Subscribe to stay in touch!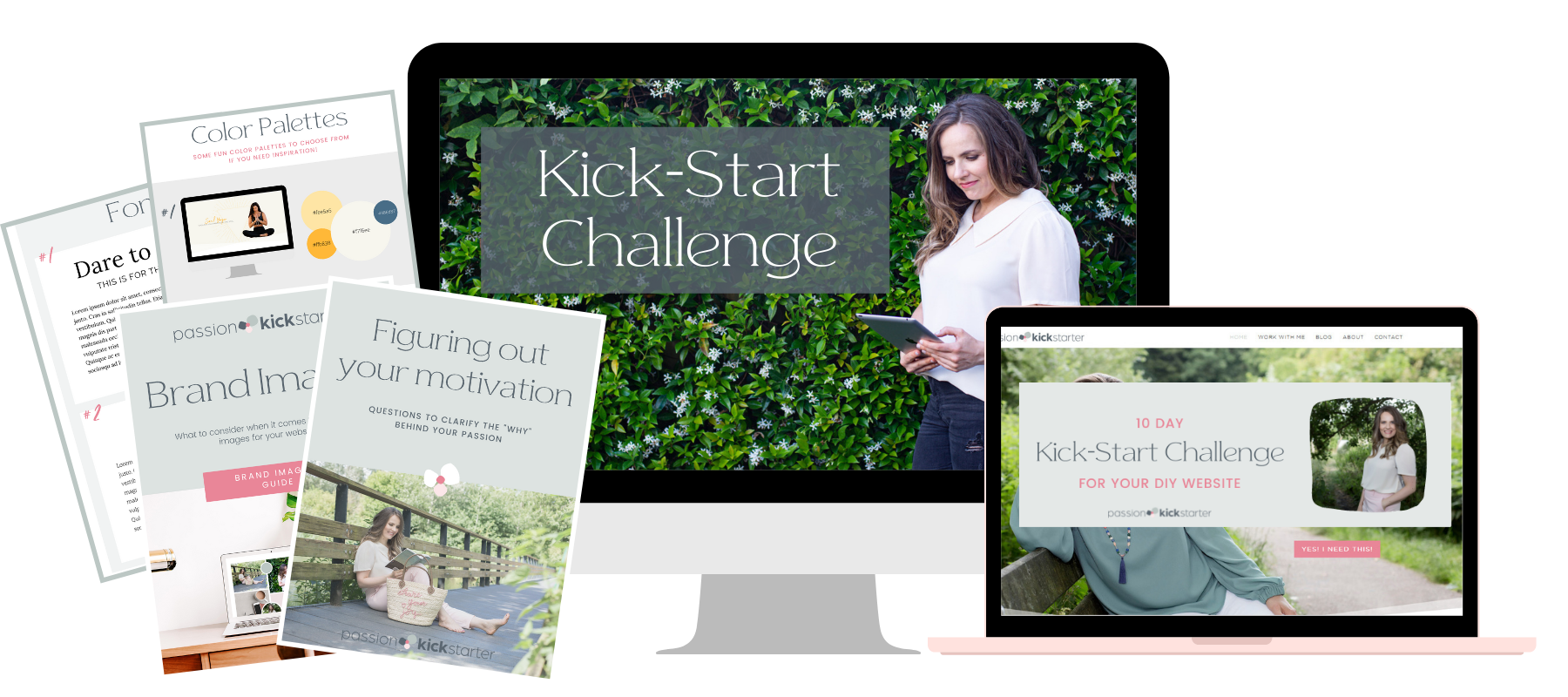 Need help with your brand or website?
Contact me and let's work together!