Does your website need a blog?
Have you ever noticed that some of your favorite websites have blogs that seem to generate a lot of traffic to their businesses?
Perhaps even you discovered their site thanks to their blog writing. Maybe it's gotten you curious as to if you should start a blog for your business website.
If you've been mulling it over, here's the sign you've been looking for to help you decide which direction you should go in.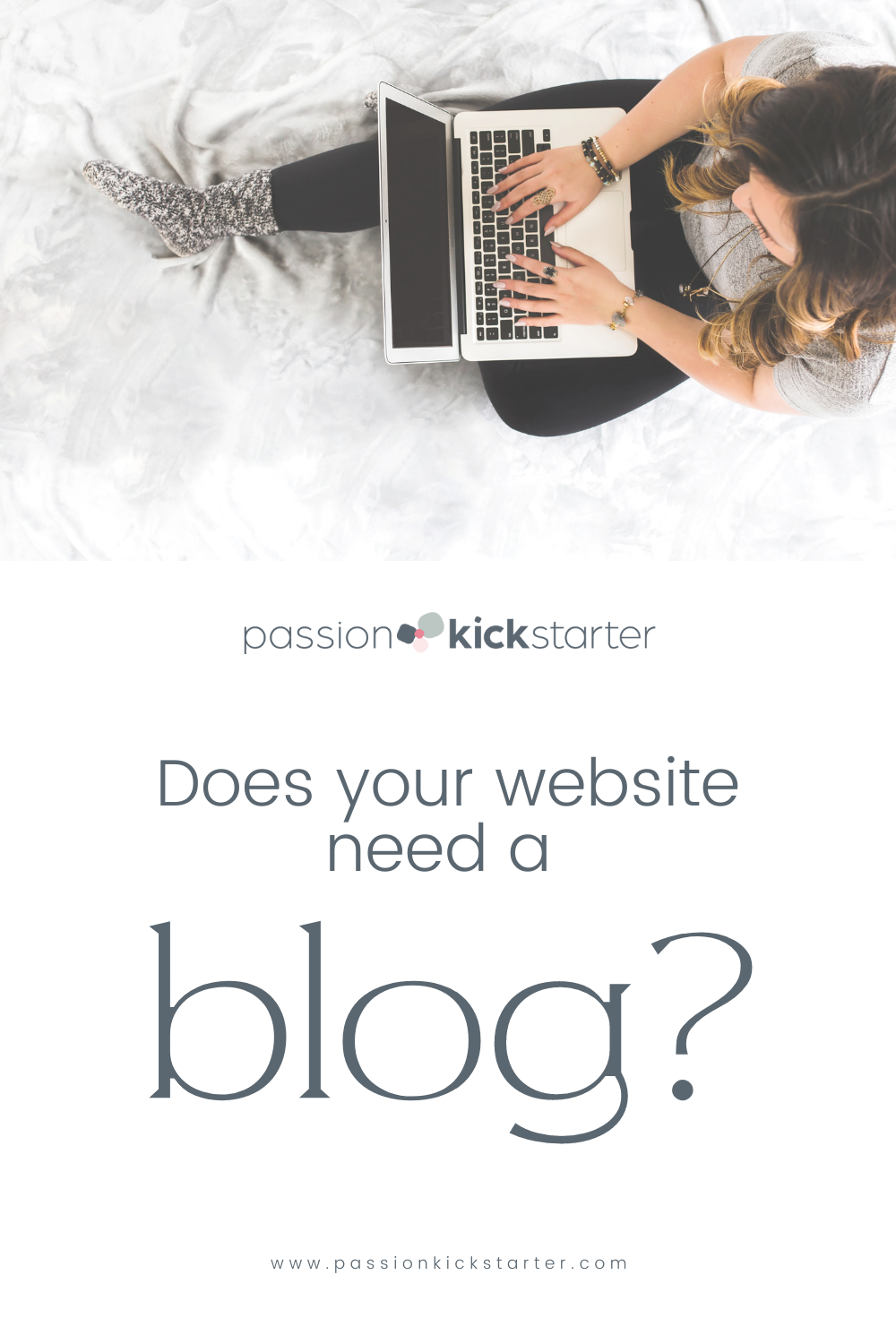 Each business is unique and the entrepreneur behind it has a Passion and skill set for their field.
That said Passion could roll over into a blog where you can be as candid as you like, as blogs are often about personal perspective and insight on a variety of subjects.
So, here's the big question: does your website need a blog?
And, do you have to be a writer to start a blog?
After we break down the cons and pros of managing a blog, you should be able to decide the first question's answer.
As for the second question, I'll tell you the answer now: no!
You do not need to be a writer to begin blog writing. As long as you are excited about and engaged in the topic you are discussing, your copywriting skills can reflect more of your actual manner of speaking.
When studies show that blogging increases your website traffic by 55 percent, let's dive into the ups and downs of running a blog, and how it can benefit your business!
What are the cons of starting a blog?
Let's start with the cons and work our way up to the good stuff, shall we?
1. There's a lot of competition.
As a small business, you're already familiar with the vast pool of entrepreneurs in your field that are all trying to appeal to your target market.
There are bigger businesses, writers and bloggers with booming websites and blogs that already generate such large volumes of traffic that you may think, "Who's going to read my blog?"
Remember this: it's not about attracting every reader, but attracting the ones that will benefit from finding you.
Your blog may be up against other successful blogs, but as long as what you are presenting to your audience is consistently useful and engaging to read, you'll be able to scale your blog by becoming a reliable source for your readers!
2. Blogging requires your total commitment.
If you think writing a blog is as simple as posting an article of 500 words or less when you have the time… think again!
Creating an effective blog means dedicating a good portion of your time to researching keywords and other information, writing and editing, crafting stellar visuals and posting frequently.
The general rule is for small businesses to post new content to their blog up to four times a week. That can be a pain if your schedule is already packed!
The good news is that even with 2-4 blog posts per month you are keeping your webiste content fresh, which is what the search engines (like Google), like to see.
One solution is to hire a copywriter to assist you and alleviate some pressure. Yet, if hiring out isn't in your budget at the moment, take time out each week to make your writing schedule to help you stay on task.
3. Brainstorming content could get tedious.
Creativity doesn't come easy to everyone, especially when you have to produce enough fresh content to fill your calendar for each day of the month!
When you start a blog, you choose which topics to discuss each week (or whatever your posting schedule may be) and write in-depth on as many subtopics within them as you can.
After a while, it may feel like there isn't much left to talk about, and racking your brain over and over for new ideas can begin to feel like a chore.
If you ever feel a case of writer's block coming on, a great way to bounce back is to keep in mind that the topics you write about are topics you know and love.
While you won't adore your business each minute of every day, when writing your blog, remember to hone in on your why (why you decided to chase your Passion, why you started your business and why your customers need to hear from you!) to encourage yourself.
Your writing is a reflection of you and your amazing skills in your industry.
When you sit down to write with that in mind, ask yourself, "What do I want to inform my readers of today?"
What are the pros of starting a blog?
Ok, let's move on to the good stuff and the benefits!
1. More traffic that could lead to more sales.
With a blog, you're able to steer more organic traffic your way by creating a regular posting schedule of blogs that aid your readers in numerous ways.
As I mentioned, Google really enjoys sending searchers to sites that have the best answers to their questions; and if your blog is full of content that assists your readers in a life-changing way, this may inspire them to become clients!
How do you garner all this amazing traffic with your blog?
Two steps:
1) strong SEO keywords;
2) authority on the subjects you write about.
All this means is make sure you are consistently using keywords (phrases or words common in your industry) in your posts, and writing from a place of both experience and big energy about your business.
2. Scale your social media engagement.
Expanding your online presence is key to your business growth, and blogging is another way to help you achieve this goal.
While you are most likely already posting content created for your target audience to your Instagram, Pinterest, etc., blogging increases your networking efficiency as you are writing about topics and scenarios that should pique their interests, passions and solve their problems.
As well as, establishing a blog creates backlinks (hyperlinks that take visitors from one site to another) to your blog from your social media that further sets up your business, website and blog for success by bringing any traffic you already have to it.
Backlinking from your Facebook to your blog, or from your blog to your Instagram, builds a higher Google search ranking for your website.
This can absolutely boost your traffic and engagement!
3. Build relationships with your customers.
Blogging can encourage discussions with your readers and clients to help you both get to know each other better.
As they learn more about your expertise and knowledge in your industry, you can learn more about what they need and expect from you.
Get in the habit of leaving calls to action at the end of your posts.
Whether it be for them to email you or a book a call with you, or questions for them to answer in your comments, opening up the conversation to your audience allows you to communicate with them and serve them better.
What would a blog look like for your business?
Writing a blog for your business takes time, energy and Passion, but it could be a worthy investment to grow your business and make you a stronger writer!
If you think the pros outweighs the cons, give adding a blog to your website a go!
What are some topics you're excited to write about?
Don't have a website just yet to start your awesome blog? I can help you with that!
Together we can create the perfect website and blog of your dreams to reach out to all those customers who don't know they need to hear from you.
Book a free discovery call with me today so we can chat!
Need help with your website?
Contact me and let's work together!
I'm your coach, friend and webdesigner when you want to get serious about your Passion project and make it into a business with a beautiful online presence.
I'll help you with tech, design and courage. Contact me and we'll create some magic for your Passion Business!
Subscribe to stay in touch!
Join the FREE 10 day Website Kick-Start Challenge and receive actionable steps and templates daily for 10 days!