Follow your joy – not the rules and tools!
1. Follow what brings you joy
I'll keep this one brief because it's kind of obvious, but somehow we tend to forget it. Especially with business it feels almost counterintuitive to start floating towards joy all the time, but it isn't.
If the things you are doing don't spark joy in you while doing them, it's time to rethink.
Nothing is as magnetic as you doing your thing, happy and energetic because you love what you do! It doesn't even matter what you do, it matters how you do it.
So if the services you are providing, or the customers you are serving don't spark joy in you, something is off.
Instead of asking yourself "what do I want to offer", ask yourself "how do I want to live?"
For me this was a pivotal question when re-designing my services and offerings.
I could offer website maintenance plans to get regular income, but the truth is this is not how I want to live. I don't want to be chained to something I cannot take a vacation from. Instead, I want to do projects, kick-start things with a mad amount of energy and then retreat again to creative freedom.
So for me it makes sense to get my automated income in other ways, like creating website and social media templates (which will be launched before end of 2021 still!).
Following your joy may feel like a big risk at first. It's scary to start following the breadcrumbs of joy without knowing where they will lead, but I say it's a risk worth taking!
Which relates to the next point as well…
 (* Includes affiliate links – Only sharing tools I use and love)
2. Don't get hung up on the tools
Since I'm pretty much self-taught in design, I have always felt this sting in my gut when it comes to certain rules and tools in the industry.
Take my love of Canva for example.
I know it well, I can spend HOURS designing and I know I can make amazing things with it.
But in the "real design circles" you are not really a designer if you are ONLY designing on Canva. You need to be a pro at InDesign, Illustrator and Photoshop. I know these tools also, but not as intuitively as I know my pal Canva.
So what did I tell myself?
"Kaisa, you need to step up and elevate your Illustrator game! Only then you are a real designer!"
I would spend hours learning more about these Adobe tools, and to be honest, it wasn't much fun.
(Of course, I'm not going to deny that these are professional tools, and yes all my final branding designs are done on Illustrator, but the point is – I was hung up on tools.)
Until I realized that my joy didn't come from these deep-dive Adobe sessions, but from fun and fearless Canva graphics that my customers can take, tweak and use themselves.
What about your "industry pro" rules?
Maybe this applies to you also on some level. Maybe in your industry there are certain "rules" about how to do things "in order to be a professional" or in order to be taken seriously.
To combat this I realized that I needed to go back to my WHY.
Why am I doing what I'm doing?
I want to help you kick-start your Passion business by allowing you to look awesome online, increasing your confidence in your dream and making design easy.
My customers don't care about the tools used to achieve that. They care about looking good and having visuals that work for them.
So why was I so hung up on "the right tools?"
I decided to follow my realization #1, and to follow my joy. And the funny thing is, once I let go of my need to excel on Adobe, and embraced my love of Canva, things elevated to a whole new level.
I got new inspiration, new requests about services I didn't even think to offer before, and fun new product ideas all relating to my original WHY – helping passionate entrepreneurs kick-start their business online.
So I urge you to do the same. To follow your joy and trust the little breadcrumbs that are brought your way. Joy IS the way, it IS the path, and it will bring you to places that are full of energy and delight.
Who's with me?
Need help with your website?
Contact me and let's work together!
I'm your coach, friend and webdesigner when you want to get serious about your Passion project and make it into a business with a beautiful online presence.
I'll help you with tech, design and courage. Contact me and we'll create some magic for your Passion Business!
Subscribe to stay in touch!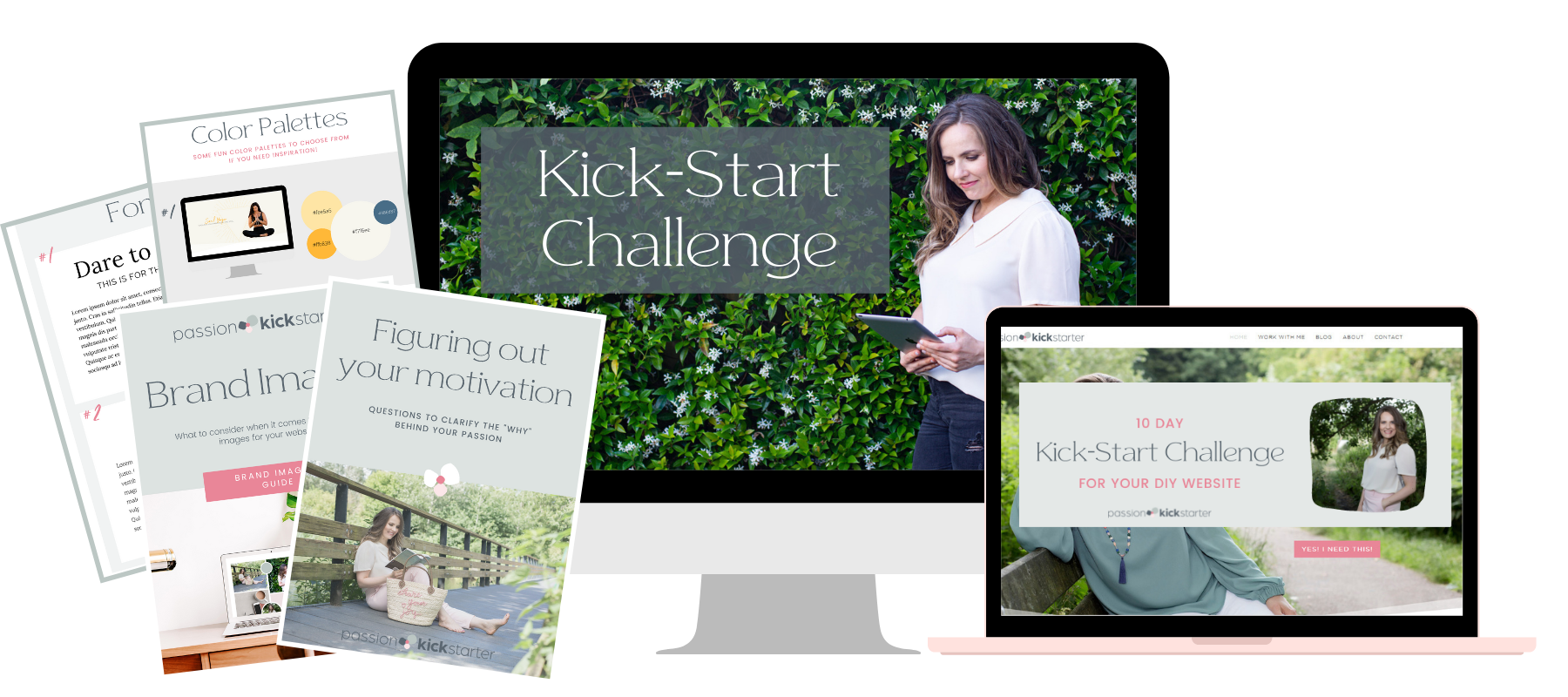 Website Project Prep pack
Steal my industry secrets and plan your website project
with confidence! Get your FREE Website Project Prep pack today!
Know exactly what to ask your webdesigner, how to prep your brand images, and how to develop your brand personality.