How to install an SSL certification on your WordPress in just 2 steps (for FREE)
In this article you will learn how to install an SSL certificate on your WordPress in just 2 simple steps!
Disclosure: Some of the links in this post are 'affiliate links.' This means if you click on the link and purchase the item, I will receive an affiliate commission. The price for you will remain the same. 
Maybe you have run into this problem before when trying open a website on your laptop or phone, you see this big old sign at the adders bar that says NOT SECURE. Or in worst case, you cannot open the page at all on your mobile.
Ugh, not really the best first impression of a company, right?
Fine, then you'll just browse yourself elsewhere. But what if this is your website?!
You definitely don't want people to think your website or blog is unsecure, and for sure you don't want them to browse away towards safer pastures.
Autch… what's going on?
What is an SSL Certificate, and why do you need to install one for your website?
This all has to do with a three letter word called the SSL certificate (well, that a bit more letters but you get the point).
SLL stands for Secure Sockets Layer, and it is a digital certificate providing authentication for a website, enabling an encrypted (safe) connection.
It is protecting the sensitive information you have, and collect, on your website.
At first it may not seem that you collect much sensitive information if you are not in e-commerce, but actually more data than you may think is considered sensitive.
The SSL certificate protects you with information, such as:
Log-in information (such as for membership websites)
Any information filled in a form and submitted via your website
Bank account information
Credit card information
Personally identifiable information (name, email, address, telephone number)
Contracts
Legal documents
Related read: What is GDPR, and how does it affect your website?
SSL used to be something you'd only see on websites where you'd have to enter banking information, credit card information or any other highly personal information.
Banks and e-commerce were using this, and you can see it on the website address: instead of having http://www, it's https://www. You can also spot a secure site by the lock symbol on the address bar.
Since July 2018 Google Chrome has started marking all http sites as unsecure, which is something you definitely want to avoid as it looks just slightly dodgy to have this NOT SECURE flashing before your web address.
SSL Certificate protects your data and boosts your SEO
By installing an SSL certificate provides privacy and security for your site, as well as for the user's personal information.
When you are using an SSL certificate, the information you are sending via your site becomes unreadable for anyone else except the intended receiver of the information.
This means that your data is protected from possible hackers and thieves trying to get to it.
Having an https secure website also protects against phishing attacks, where online criminals are impersonating your website and trying to get some information out of your customers in your name.
But it's actually even a bit more than that. SSL is also a piece of authentication for your site.
It will tell your users that you are who you say you are, since getting an SSL certificate means that your hosting provider demonstrated ownership of the site, or a reputable SSL provider is behind your site.
What's also good to note is that having the SSL Certification will help your SEO, as SSL is said to be part of Google's search ranking algorithm.
And it makes sense too; Google wants to make sure that it sends people to safe and authentic websites to provide to best possible user experience for their users.
Convinced?
Great! Then we get to work and make sure you know how to install an SSL Certificate on your WordPress site.
Step #1 – How to get an SLL Certificate for your WordPress?
So what can you do about this? Luckily the answer is quite simple – you have to install a SLL certificate on your WordPress website.
Here I will show you how to install an SSL certificate on self-hosted WordPress site (if you have a hosted platform such as Squarespace, the SSL is most likely included).
First, if you have a standard blog or a website (and you are not running a bank for example), a standard SSL certificate will be fine. In most cases your hosting company should offer one for one, so check first with them.
For example, we use DreamHost for hosting our websites, and they offer an SSL certificate for free.
In my case when I go to my Dreamhost panel, I can see what websites are secure and which ones aren't yet. DreamHost offers a free option, and a paid option to get the SSL certificate.
When you select the free option (for example), it'll take 10-15minutes before this will become active, and you will receive an email to confirm. The free SSL is updated monthly, so we receive a monthly email from DreamHost to confirm that the SSL certificates are renewed.
So Step #1 is to check what your host provides you. If you feel confused, just get on a chat with them or call them. This should be a very small thing for them to arrange for you.
Related read: Beginners guide to Webhosting
Step #2 – How to install the SLL Certificate on your WordPress website?
When you have completed Step #1, and you have the SSL certificate, it will not automatically show on your WordPress.
You have to install it, but luckily this is very easy with a WordPress plugin called "Really Simple SSL."
Sounds good, right?
If you go to your WordPress and select to install a new plugin, you can find the Really Simple SSL from the WordPress menu, or you can download it here.
You'll need to go through the usual steps with WordPress plugins, which means:
Download the plugin to your computer as a ZIP file
Upload onto your WordPress site
OR take straight from the WordPress menu of plugins)
Active the plugin
Once you have activated the plugin, you can find it under the Settings -menu as SSL.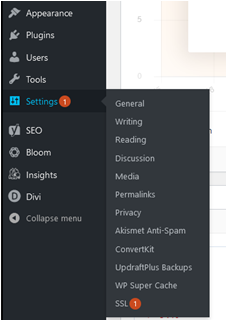 The dashboard of your SSL set-up is quite simple, and it shows you what settings of the plugin are active on your website. Some more advanced features are part of the paid premium part of the plugin, something you can think about or look into if you wish. 
You will then see a notification asking you to enable the SSL. After enabling the SSL, you may have to log out, and log in again before you see the effects of the SSL. And, before you do this, it's always good to back up your site, just to be sure.
But that's pretty much it! That is just how simple it is to install an SSL certificate on your WordPress.
Done! You have installed your SSL certificate and your WordPress site is secure!
Now you can enjoy the benefits of having a secure site!
This is great for not only the professional first-impression it provides your users and potential customers, but also the secure feeling in knowing that the data you have, and collect, is safe and sound.
Although your website will function without installing an SSL certificate, it's beneficial to everyone that you have one, especially when it's this easy!
You want to put the best foot forward with your brand, and having that NOT SECURE text looming in front of your domain name doesn't make the best associations.
So contact your host today, and follow these simple steps to be on your way.
Need help with your website?
Contact me and let's work together!
I'm your coach, friend and webdesigner when you want to get serious about your Passion project and make it into a business with a beautiful online presence.
I'll help you with tech, design and courage. Contact me and we'll create some magic for your Passion Business!
Subscribe to stay in touch!
Join the FREE 10 day Website Kick-Start Challenge and receive actionable steps and templates daily for 10 days!