Learn How to Create Professional Images To Boost Your Brand (and Website)
Your website is the first place potential customers will go to get to know the real you. And this is exactly what we want – we want your visitors to really get to know you!
High quality images that match your brand give your visitors a professional image of your business (see what I did there ;))
We want to present you in the best possible light, and for people to form a connection with you as soon as they arrive.
Knowing your brand colors, fonts and overall tone of voice is essential to building a professional site, but this is also true for your brand images!
It's important that everything on your site makes it super easy to figure out exactly who you are and what you do. And trust me, your brand images will speak more than 1,000 words about you!
But how to create brand images that your website designer will thank you for, and your clients will love?
Let's dive into how to create and utilize brand images for your website.
First, let's touch on what not do with your brand images
1. Don't underestimate pro help
If you're just starting out (or haven't found your dream photographer yet), you might use stock photos on your site that correlate with your brand. Or you might have a friend take your photos for you (in which case please download my FREE guide for some important pointers!).
However, I always tell my clients to invest as much as possible in a photographer, and especially one that is specialized in personal branding.
If you are going to invest in your website, it's worth it to invest in your images, because there is just no magic I can do to make a great website with poor quality images!
They can help you prep your shoot, guide you with clothing choises and props, and so much more to make your experience a great one.
2. Don't hesitate to invest in hair and make-up
Let's not forget hair and make-up! Because I cannot tell you what a fantastic boost of confidence my brand images gave me when I was starting out.
As a new mom it was incredible to see myself transform in the hands of the professionals! All of a sudden I felt like I was ready to take on the world, and my website transformed with my new images as well.
This is the confidence boost I wish for you as well! Not to mention the results you will see on your website!
3. Don't use holiday shots
This is such a no-no for me.
While it's nice to share your human side and adventures on your social media, the brand images on your website should portray you in a professional light. And let's face it, having a drink on your hand in some beach shack may not potray you as the expert coach or wellness professional that you are!
Besides, holiday shots are usually bad quality, fuzzy and not with the best lighting, and it's just best to leave these for your insta stories at most.
4. Don't use selfies/irrelevant images
This kind of ties in with the previous point.
Selfies are usually fuzzy, not in focus and may not be relevant to what you do as a business owner.
Try to remember what message you want your photos to convey to your customers. What do you want your customers to feel when they land on your site?
Download my FREE guide for all of these tips, and more!
So how do you create professional brand images?
For the best effect on your website you'll want a variety of images that represent you and your brand.
First, you should have your brand colors picked out, because they will play a huge role in determining your clothing, background, props and even your poses.
For me, I wear a lot of pink, green and white as those are my brand colors. You'll also see me holding a green mug or walking in nature as it fits the vibe of my brand: down-to-earth and natural.
Think about this for your brand. Are you a city person or would a more quiet background be better? Do you like studio photos, or outdoors?
You'll want a good mix of shots that work for your brand like:
1. Hero shot
This kind of image is best used for your website header as it is the first image your customers will see. It demonstrates exactly who is running the business, and instantly makes a connection with your audience.
In your hero-shot you want to look straight into the camera and smile, so that your visitors will immediately make a connection with you. This is by far THE MOST important image of your website.
Depending on your brand you don't need to be front-and-center, but keep in mind that this is the point where visitors will decide whether to stay or to go.
2. Happy-In-Your-Element shots
It's great to show yourself doing what you do best: working your magic for your customers!
These images show you working alone, with your team or your clients to reveal what goes on in the background of your business.
It's nice for your potential clients to see you in your element so that they can image how it would be to work with you.
3. In the distance shots
This type of image is similar to the hero shot yet the star of the shot is really the scenery around you.
You'll be shown walking through your favorite scenery to give insight into the vibe of your business. This can be in a countryside, or in a city, or in a nice office athmosphere. Anything where the environment represents your brand, and where we can add you into the image as well.
4. Mix and Match Vertical and Horizontal shots
Your website designer will love you if you deliver a variety of horizontal and vertical shots.
Remember, from one pose you can take several shots! Close by, from a different angle, further away… Play with the shots and make sure you cover one pose from all possible angles. This way your website designer has a lot of creative freedom with how to place the images on your website.
How many brand images do you need on your site?
If you are just starting out, it's good to have at least 10-20 images to design your website.
As a web designer, I like to work with as many images as possible. I recommend shooting for 30-40 (or more) brand images so we can enhance your brand on your website.
Plus, you'll have extra shots for your social media!
Need a PDF guide with image examples? Download a FREE guide for all of these tips, and more!
Do you need web design help?
As a web designer, it's my job to build a beautiful website that embraces you and your brand.
If you're not sure how to implement brand images to boost your brand, I'm here to help! Contact me and let's work together to create your dream website for your passion business.
I'm your coach, brand and webdesigner when you want to get serious about your Passion project and make it into a business with a beautiful online presence.
I'll help you with tech, design and courage. Contact me and we'll create some magic for your Passion Business!
Subscribe to stay in touch!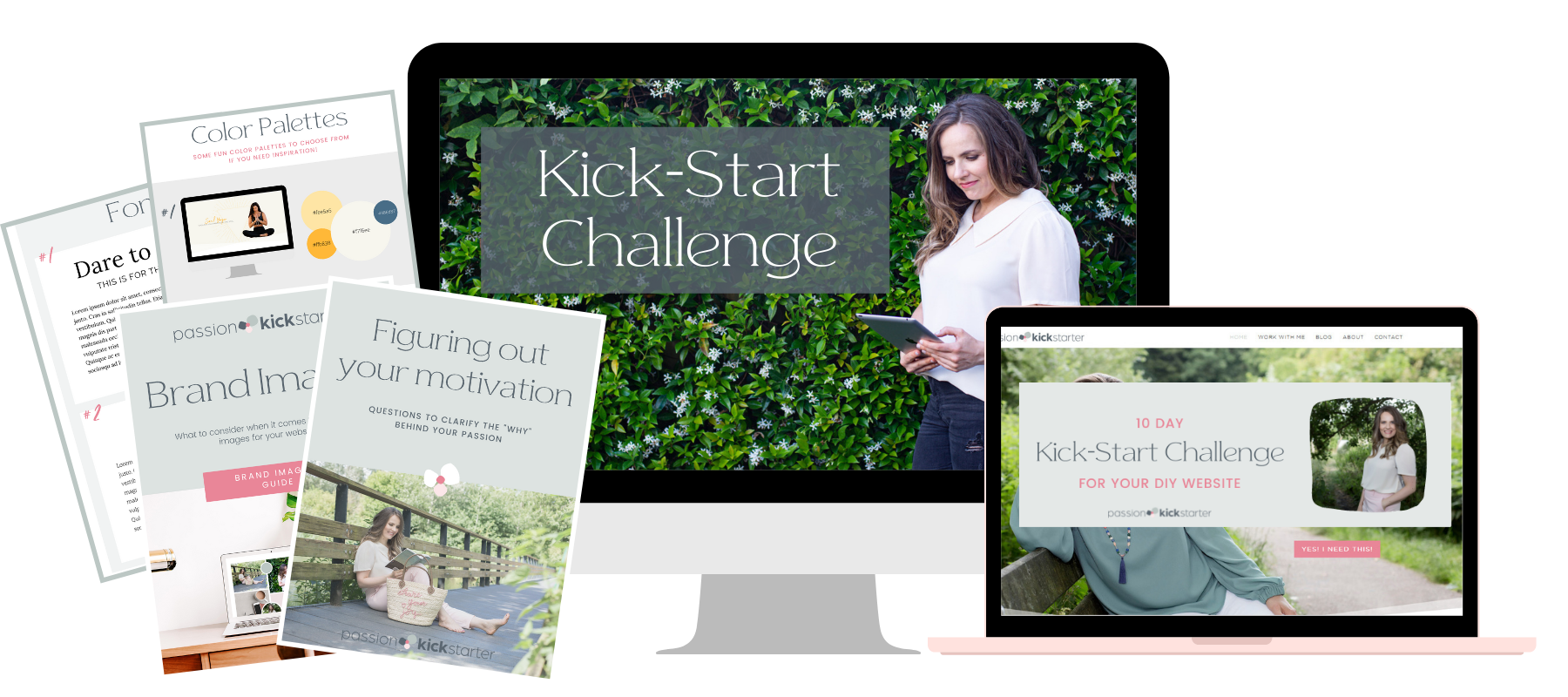 Need help with your website?
Contact me and let's work together!