My Step-by-Step Branding Process
So you have an idea, something that you would love to do with your life moving forward, and something that would fit your values better than your current (corporate) job.
You know that in order to start your Passion business, you will need to look like a proper business – meaning it needs a visual presence (aka branding), and you need a website as well in order for people to find you and book your services.
This step can feel a bit overwhelming, especially if you just started googling about "what is branding" or "how to create a logo for my new business?"
And besides, what does branding even mean? What exactly do you need for your business, and how to go about choosing for the right person to help you with bringing your dream business into a reality?
The good news is that you can stop googling, and you can stop worrying!
In this post I will lay out what my branding process is (step-by-step) so you'll know exactly what to expect. You can also check out my free Website Project Prep Pack which will guide you with all the things you should consider before hiring a web designer for your project.
So what happens if you'd be my client for a branding project? Let me show you!
Step #1 – Reach out & we'll hop on a consultation call
The first step in the Branding Process is that you'll reach out to me either via email, or by directly scheduling a free consultation call.
You can choose a time from the agenda tool that suits you, and this will automatically book a Google Meets meeting between us. During this 30min you can ask me any questions you may have, and I will ask you about your business.
And don't worry if the only question you have is "HELP!" 🙂 That's OK too.
I will guide you through the process steps, ask you about your business and suggest services that might be a good fit for you. If I think I am not the right person to help you, I will say this as well, and give you my recommendations on how to move forward.
I will not ask you to make a decision on the spot – we'll have a chat, you'll know how working with me would be like, and after you have thought about it, you'll let me know if you'd like to proceed.
You can book a call with me even if you are not 100% sure about what you would need, I can help you figure all that out!
Step #2 – Booking your project
If after our call you feel like we are a good match and you'd love to work together (yeeeei), we'll move forward to securing your spot in the calendar.
We'll agree upon a date that works for both of us (minimum 2 weeks in advance), and I will send you an invoice of 50%, as well as the contract to sign.
Once I receive these, your project is officially in the books, and we'll move to the next step of the Branding process!
Step #3 – Preparing your Project
Now it's time to start preparing your Branding project so that we'll have all of the needed information on time.
I will send you a Project Kick-Start Pack which details all of the different stages of the project, the project timelines, deadlines, when to expect what, and of course, your homework assignments.
I will also set up a joint folder in Google Docs where you'll find all of the main documents perfectly organized in separate sub-folders (#nerd).
So what homework are you expected to do at this point?
First, I will be sending you a Brand Personality Questionnaire to get an idea of the personality of your business. This will be the foundation of the design, since every design element (like colors and fonts) have a personality, and they need to reflect the vibe of your Passion business.
That's why it's good to really dedicate some time on this task. You don't want to just quickly whip something up, because we want your brand to deeply represent who you are, and what your values are.
You will also get invited to start collecting a vision board on Pinterest. This is to get some visual cues to what you like, and what your style is. It's much easier to show me an image that fully represents the vibe of your business rather than trying to explain in words what it is that you like.
And let's face it, we don't often even KNOW what exactly we like before we see it. You don't have to know in detail why you like some images and dislike others, but when you collect enough images on your Pintrest board, we'll be able to see the direction and overall style quite easily.
The more different images you include, the easier it is for me to see the trend. So everything and anything goes, whatever reminds you of your business in some way (people, colors, textures, nature etc).
Step #4 – Kick-off Call
Then it's my turn to get to work!
You will need to fill in all of the homework before we have our official Kick-off call to start the creative part of the branding process.
We will go over the Brand Personality Questionnaire, and I will ask some more detailed questions to hear you explain it with your own words. I will also go over the Pinterest board, and ask some more details about it to make sure that I'm interpreting the most important elements correctly.
We go over the Project Kick-Start Pack, summarize the next steps, and then I will get to work!
Step #5 – Mood board design
It's time for me to start the creative design process!
I will first start with making a mood board based on your Brand Personality answers, and the visuals from the Pinterest board.
I will dive deep into the words you have used, the WHY behind your business, what you want to achieve with your business, your tone of voice and how you would like to be perceived by your customers.
All these things are very relevant when it comes to designing a brand, and choosing the visual elements.
I will then present you with a one-page moodboard which will include the suggested colors, and it also serves as the first introduction to the visuals of your Passion business.
This is when you start seeing your baby being born! 🙂
Step#6 – Main Design elements
Once you approve the moodboard, I will move ahead to selecting the typography (fonts) for your brand. I will also already think how these would be used on your website (regardless whether you will continue for a web design project with me or not).
I will make a dive into images, and design an overall direction for the images used for your brand.
All of these brand elements will be pulled together in a Brand Presentation Document, which I will share with you once the brand items are completed.
At the same time I'm already hard at work with your logo design, which as you can see is not the first thing we jump to, but rather one of the last things I do when it comes to the branding project.
I will play with the concept will draft several different versions of the logo before chosing  the one that best represents your business. I will design few different versions of this logo and present these to you.
Once I have your feedback, I will make any modifications required, or additional versions of the logo needed.
This is a so-called "one concept method" which means that instead of confusing you with several different designs, I use my expertise in creating a concept that I feel best suits your business, and I will make a full concept out of it.
This way you will be able to see how the brand is really living and how it would look like "in real life" in different formats.
Step #7 Final Brand Presentation and Quick Guide
To finalize the Branding process, I will make a final version of the Brand Presentation which includes information on your colors (web & print codes), your logo versions, website look-and-feel and a visual presentation of any other brand collateral we have made for you (business cards, stationary etc).
I will share all of the documents via the Google Drive folder. Your logo files will be delivered in 3 formats: PNG, JPEG and vector, and I will provide you with a guide on how to use each format of the logo.
The Brand Quick Guide document is something that you are easily able to share with any future webdesigner or a team member when you need to provide a guide on your main brand elements.
Step#8 – Wrapping up
Before we wrap up the project, I will send you the final invoice, and a questionnaire on how you experienced the project.
I will make sure that all of your questions are answered and that you know how to use your brand elements in practice the way you intend to.
Most of the time my branding projects continue into a webdesign project, but if this is not the case (yet), our time together has come to an end.
By this time I am completely in love with your Passion and your brand, so you will forever be in my heart and in my thoughts.
Curious whether we could work together?
Contact me and let's get started!
I'm your coach, brand and webdesigner when you want to get serious about your Passion project and make it into a business with a beautiful online presence.
I'll help you with tech, design and courage. Contact me and we'll create some magic for your Passion Business!
Subscribe to stay in touch!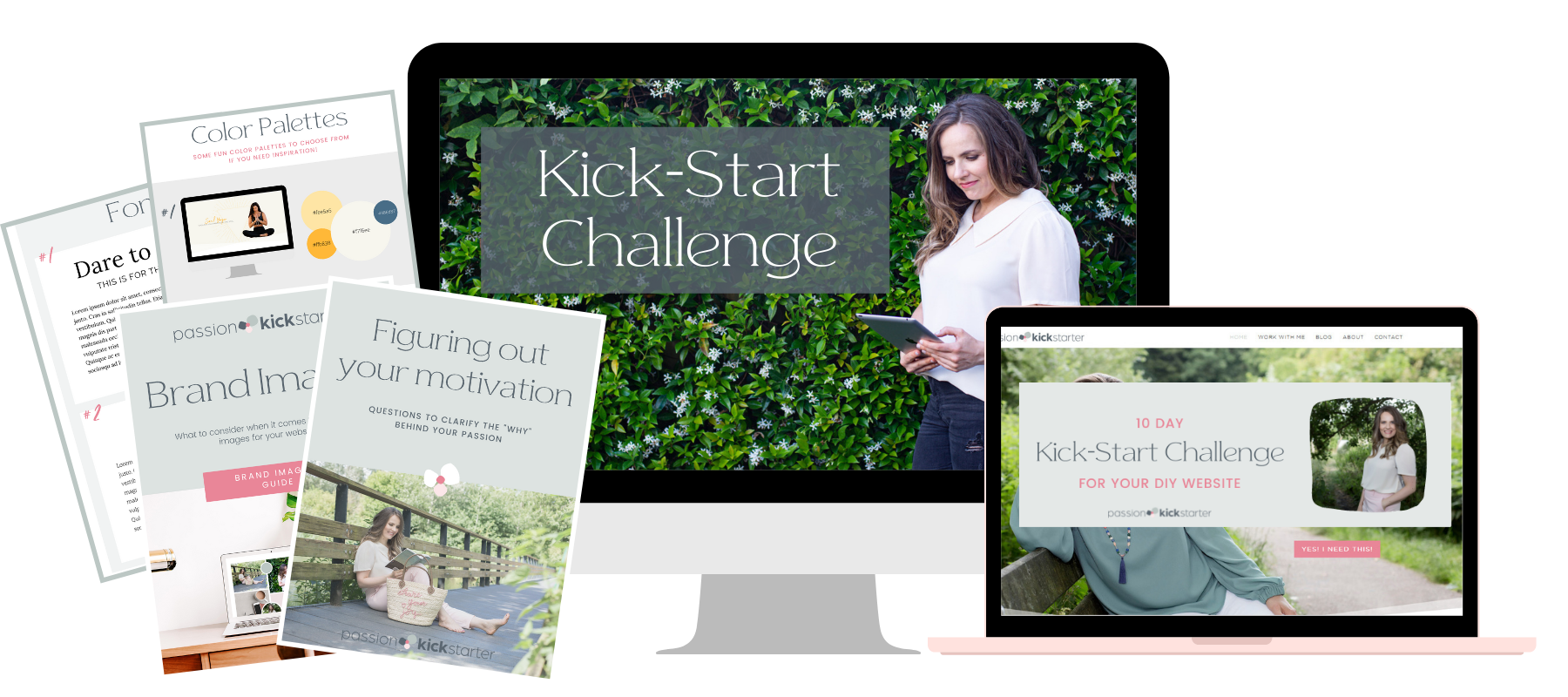 Need help with your website?
Contact me and let's work together!