Why Are Colors So Important In Branding?
Branding in your business boils down to one major element: your personality.
Who you are, what you do and why you do it is all told by your business's colors, fonts, images and logo—aka your brand!
Choosing your brand colors is picking tones that correlate with your personality, as well as what you want customers to feel when they encounter your business.
For example, we usually connect the color yellow to feelings of happiness and optimism. No wonder why McDonald's primary brand color is yellow and their mascot is Ronald McDonald, a smiling clown!
While consumers may not always notice how colors affect their decision-making, HubSpot performed a study proving it does. Their research showed how specific brand colors can impact a business website's conversion rates.
Using a colored call-to-action button on a conversion page, HubSpot used green then red for the button. The red button increased conversions by 21%, meaning more visitors clicked it over the green button.
Overall, colors reveal what customers want to know about your business, and help them decide if you're the right fit for them!
Colors and Psychology
Colors have a wide variety of meanings based on history, cultures and our own personal interpretation of them.
Certain colors and their tones (warm, cool or neutral) can convey specific moods and behaviors. In your business, these colors work as an essential communication tool to relay to your target market your values, actions and even if you're trustworthy!
Below is a quick look at some colors and their assigned meanings.
If you feel differently about them than what they are described to portray, that's okay! Just remember that the energy you feel from these colors can help you understand what your customers may feel when they see your brand colors!
Brown: Stability, resilience and safety
Black: Sophistication, balance, premium
Red: Passion, bold, energetic
Orange: Friendly, enthusiastic, cheerful
Yellow: Warmth, glee, youthful
Green: Health, nature, tranquility
Blue: Reliability, trust, serenity
Indigo: Fairness, honesty, wisdom
Violet: Ambition, royalty, power
How Do You Pick Your Brand Colors?
If you've already selected brand colors for your business, take a moment to ask yourself why? What about those colors resonated with you and your mindset, emotions and business functions?
If you haven't settled on brand colors just yet, what colors stand out to you and why? The reasons why the colors make a difference to you will be the same reasons why your target audience will connect with them as well!
When coming up with, or redefining, your brand colors, keep these strategies in mind to make a powerful statement with your audience!
Do your brand colors represent your values and personality?
Are the colors appropriate for the type and tone of your business?
Are the colors popular in your niche or industry (i.e. proven to connect with a specific demographic)?
Are the colors consistent in your branding? Or do the colors change from your logo, social media posts and/or website?
Need a Little Extra Branding Help?
Don't know where to start with creating your brand? I can help you!
Step 1: Grab your FREE Website project Prep Pack bundle below, which includes the Brand Personality worksheet. With the questions in this worksheet you'll be well on your way discovering the personality of your business!
Step 2: Ready to get to work? Go ahead and check out my training on how to make your own logo with Canva in just one day! Yes, it is possible, and don't worry, this training comes with plenty of bonuses, like ready-made color combinations and font conbinations (even ready-made logos for you to steal)!
Step 3: If you need more 1:1 help, just schedule a informal, no-pressure chat and let's discuss your business and branding goals!
Need help with your website?
Contact me and let's work together!
I'm your coach, friend and webdesigner when you want to get serious about your Passion project and make it into a business with a beautiful online presence.
I'll help you with tech, design and courage. Contact me and we'll create some magic for your Passion Business!
Subscribe to stay in touch!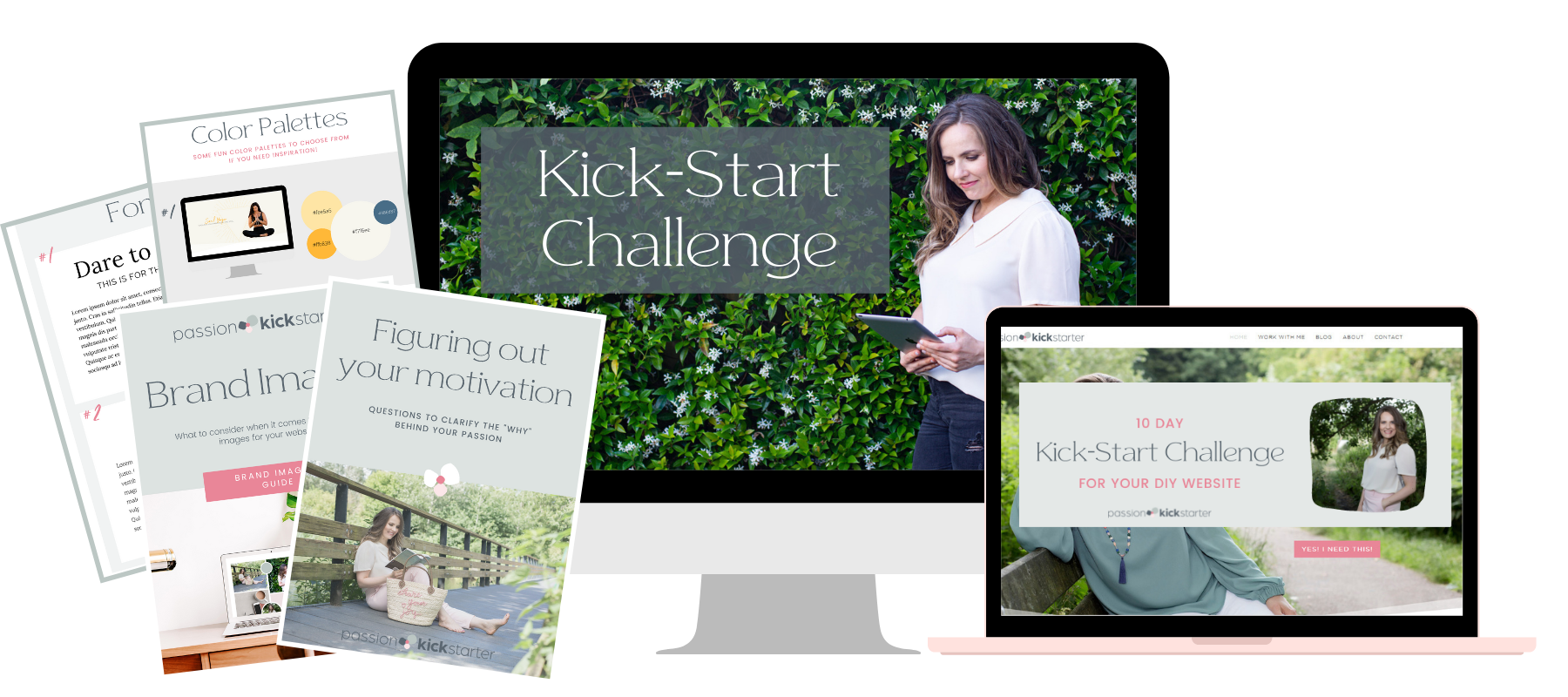 Website Project Prep pack
Steal my industry secrets and plan your website project
with confidence! Get your FREE Website Project Prep pack today!
Know exactly what to ask your webdesigner, how to prep your brand images, and how to develop your brand personality.